We feel so very indebted to you for taking care of so much and having the night be such a blast! Everyone had a fabulous time and have been saying this was the best wedding they have been to in a while and this was largely due to your entertainment, so thanks again!
Katie and John Damiano - May 24, 2015 - Fairfield, CT
With ATMOSPHERE PRODUCTIONS LLC you can expect stress-free planning and coordination that will keep your reception running smoothly, plus hours of FUN, great music, mixed with careful precision.
Your wedding day is something special. You'll invest time, energy and money into this special day. But too many couples make that last minute blunder….. THEY CUT CORNERS ON THE ENTERTAINMENT!! The entertainment will make or break your special day!
The following is a condensed version of some of the events at a traditional wedding reception. Your personal tastes may dictate unique circumstances, therefore we're not limited to this format. It's your special day. You can choose which events are included or excluded.
Whatever your choice, we'll be your Reception Entertainment Directors – scheduling and coordinating and working quite well with the banquet facility, caterer, photographer, and any other wedding professionals, to assure that everything runs smoothly. Here's how: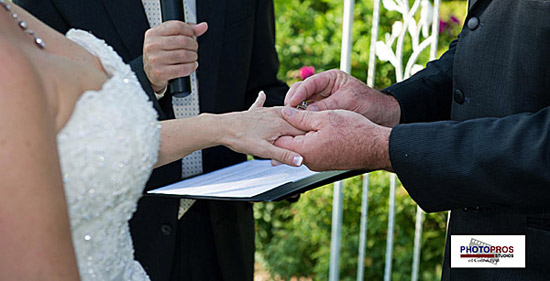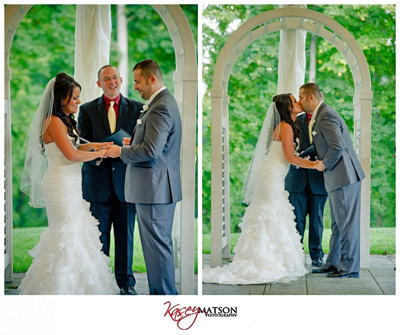 The Ceremony Music
ATMOSPHERE PRODUCTIONS is also available for outdoor and indoor ceremonies – onsite or at your church or place of worship. We can work with you to bring music to almost any location. Now, you don't have to sacrifice sound quality and coverage just because your ceremony or cocktail hour is in a separate room or outside.
We can either set up a small discrete system with music and wireless microphones or "remotely broadcast" music to your location.  Do you have a location with no power?  We have battery powered systems, so that we can provide this unique technology for you in any location.
Do you want a classic or traditional feel for your Ceremony?  We can have our Violinist perform ceremony music for you.  We also have solo Guitarist, string duo, trio or quartets – it's your choice!  Additional fees may apply. Contact us for details
The Cocktail Hour Music:
While the guests arrive, we can play a light mix of smooth jazz, love songs or light classical music. Because your guests are spending this time conversing with friends and relatives we keep the music low-key and our volume is unobtrusive. We won't just play boring elevator either; the music is specially programmed and customized live for each event, so that YOU can pick the music.
Our Strolling Violinist can also provide background music for you.  Want something different? We also have solo Guitarist, string duo, trio, quartets or a jazz combo – it's your choice!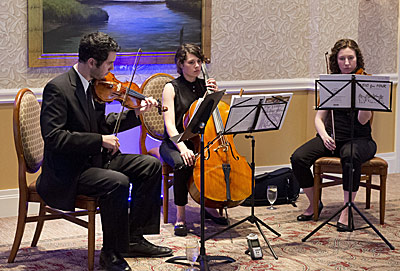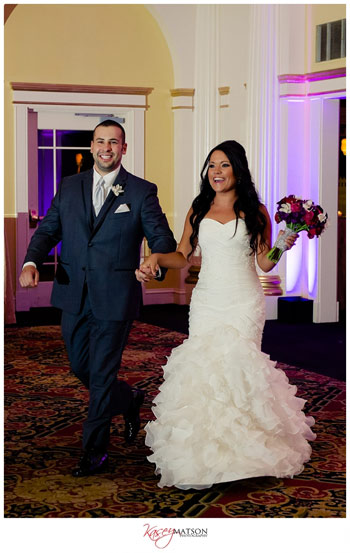 The Formal Introductions:
Usually the photographer will take the Bride and Groom and Bridal Party for pictures after the ceremony. When everyone arrives at the reception hall, we'll perform the Formal Introductions from our special forms that you've completed and we've reviewed 30 days prior to the reception.
We are your Reception Entertainment Directors and Master Of Ceremonies.  We'll personally organize and line up the Bridal Party, Parents and Grandparents and again go over the correct pronunciation of the names. We'll coordinate these details with the banquet facility and photographers. All procedures will be explained to the Bridal Party and Parents, from when to walk in to where to sit. Nothing is left to chance – everything is coordinated by us!
Expect lively, enthusiastic, but tasteful introductions plus our special optional Custom Love Story Introduction just for the Bride & Groom. This is one area that we love to do and are experts. Carefully preselected background music is used during the introductions. This is one less item that you need to worry about!
The Blessing, Best Man's Toast & Speeches:
We will announce the Blessing, Toast and any other speeches several minutes before it happens, so that everyone will be prepared!
The Blessing is usually performed first, by the Officiant or a member of the family, with all guests standing. Then the Best Man will do the Toast, with the Bride & Groom seated and all guests standing. If the Maid/Matron of Honor, a Bridesmaid or an Usher wishes to speak this would be the best time.
The Father of the Bride is welcome to speak and the Bride & Groom may want to thank their family members and guests at this time.  A portable cordless microphone will be provided at the Sweetheart or Head Table.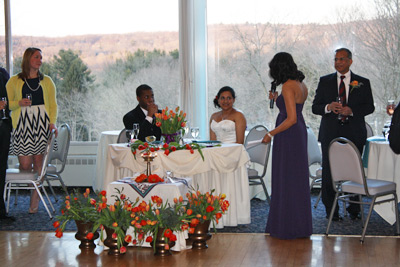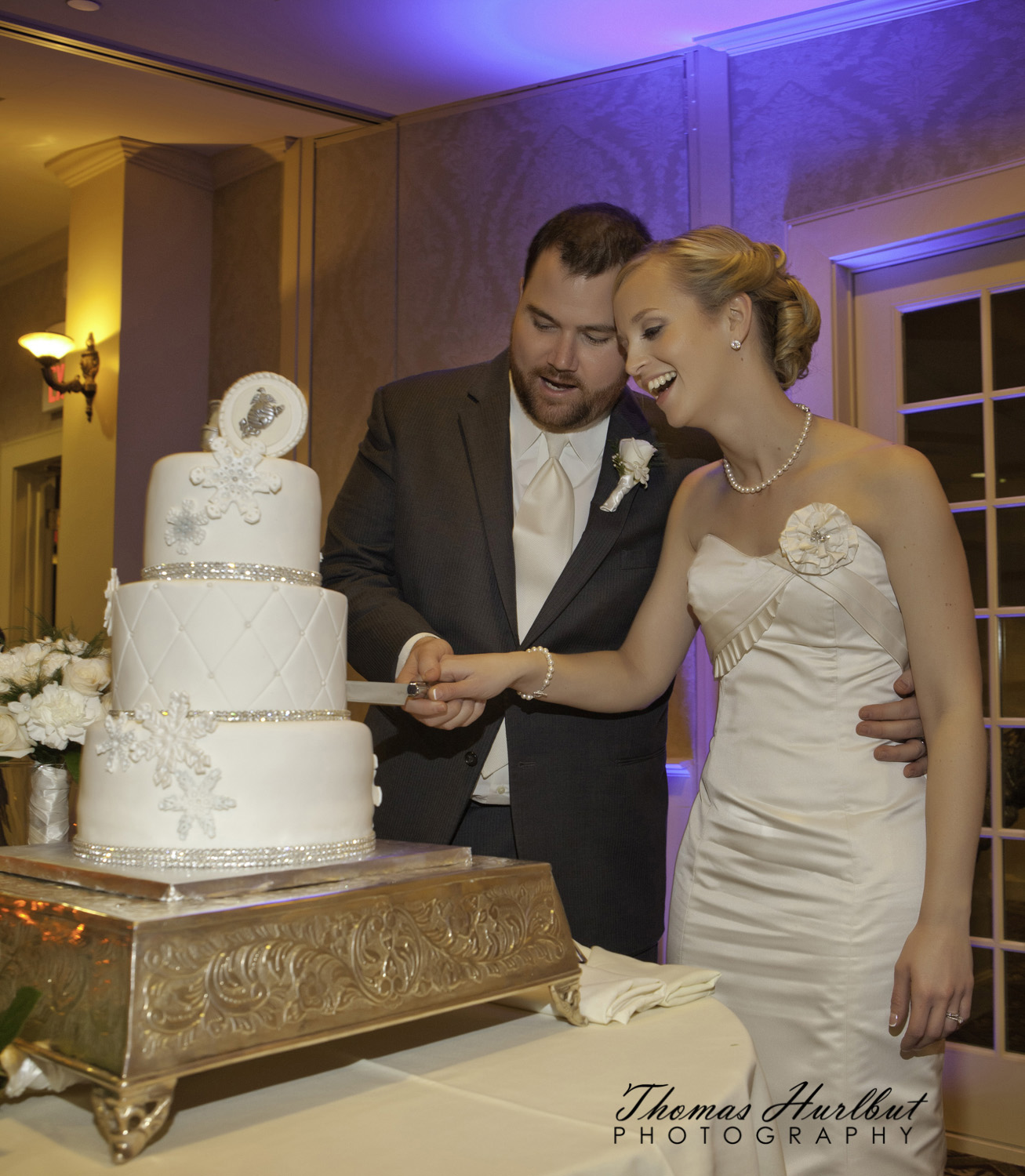 The Cake Cutting:
This usually takes place right after the meal. We'll make sure the photographers and the Bride & Groom are ready, then we'll make an announcement for the parents and guests to gather around the cake. We do NOT use "The Farmer In The Dell" or "The Bride Cuts the Cake" song. YOU can select a tasteful musical theme or song, as background music, while we talk you through each step of cutting the cake and feeding each other. This way, the photographers get each shot!
Alternatives are available for this event.
The Dinner Music:
During dinner, we play a light, easy-to-talk-over music mix similar to the Cocktail Hour music (see "The Cocktail Hour Music" above). You can pick some of your favorite love songs or we can create a customized playlist that reflects your taste.
Typically, the Bride & Groom will be served meals first, so while the staff are clearing tables, we suggest that this is the best time to go table to table, to visit your guests. This will give YOU and your GUESTS more time to spend dancing and having fun later!
Our Strolling Violinist can also provide dinner music for you.
The First Dance:
The Bride and Groom select this song before the wedding day. We usually start with the Bride & Groom alone on the dance floor. If desired, halfway through we can invite the Bridal Party and the parents to join in. An alternative is to have one song for the First Dance and then a second song for the Bridal Party and the parents. The First Dance may take place right after the introductions, during the meal, or after the meal; it's your choice.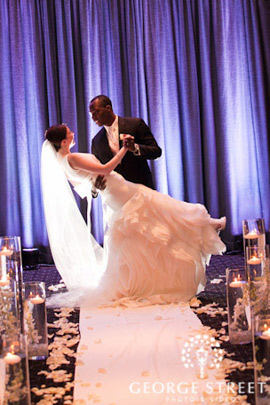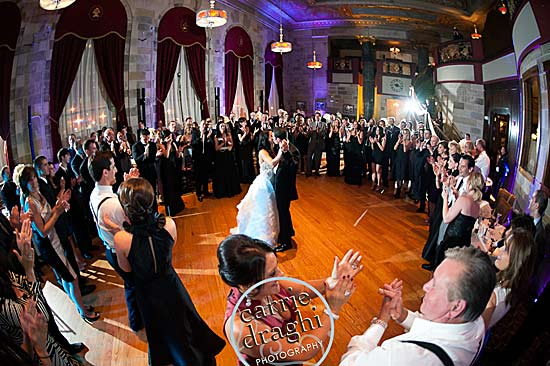 Let's Dance:
After the First Dance, we invite all the guests to join the Bride & Groom on the dance floor to start the dancing. In the beginning of the dancing portion of the reception, we usually play popular songs and music from your request list. This will usually allow everyone to get involved in dancing.
We'll mix the music beat-to-beat, so that we keep everyone on the dance floor – no gaps or "dead air" between songs.  There'll be a flow and consistency, so that young and old will feel welcome on the dance floor.
It is important that the Bride & Groom remain on or near the dance floor at this time. Going outside for pictures will discourage your guests from dancing and you'll have less interaction. After all, if the Bride & Groom don't get involved and have fun at their wedding reception… why should the guests?
Parents Dances / Bouquet & Garter Ceremony / Special Events:
These events are performed with great taste and elegance. The Bride & Groom preselect the music for these events. We can also give you alternatives for the Bouquet & Garter Ceremony, such as "The Anniversary Celebration Dance" (Note:The Bouquet & Garter Ceremony is performed with taste and not crudely). These, and other events, are scheduled to run smoothly and are NOT normally performed as one continuous event, one right after the other! You can determine the extent of involvement of the DJ: Laid back or interactive. Regardless the DJ will NEVER become the center of attention on your special day.So if you believe, as I do, that your wedding is important, then you'll want to see more of how ATMOSPHERE PRODUCTIONS will enhance your day with our caring attitude that puts your style and feelings first. Because what we do is important and we love what we do.