Success Stories….What others are saying…
DJ Sam was absolutely the best. He did a fantastic job at my daughter's wedding–we wanted a low key, classy DJ and he fit the bill in all respects. Always totally organized and focused, he was always on time for all appointments. He responded promptly to emails and phone calls. DJ Sam had lots of good suggestions for our backyard wedding, and he clearly knew what we had to think about in our planning, but he wasn't one bit pushy. He thought of things that we hadn't thought of, but needed to be addressed. He came to our rehearsal to help out. He played all the music we asked for, and made great choices for the rest. We had specific requests and several "don't do's", and he did everything we asked. He hired and coordinated the string trio for the ceremony. Everything worked out perfectly, in large part due to DJ Sam's efforts. If you are looking for a great DJ for your event, I recommend DJ Sam without reservation.
Molly and George Dominello - 7/8/2017
Thank you,
Atmosphere Productions LLC
! It was a perfect wedding despite the rain.
 Thank you for your help in making it a celebration to remember. We feel super lucky to have had you as our DJ!
Sarah Reeves and Mark Roman - June 25th, 2017
DJ Sam, Thank you so much for the amazing entertainment at our wedding.  From the pre-wedding planning, to the strolling violinist, and everything during the reception, it was wonderful!  We'll definitely recommend you to our friends.
Laura and Danny Boehning - June 3, 2017
Thank you for a great wedding.  Played as many of the songs we suggested and added songs we didn't request which fit perfectly and kept the party going.  The lighting looked great and added to the overall look and feel of the room.
Emily and Brian - May 20, 2017
I wanted to thank you for everything you did to contribute to our amazing wedding. Everything went perfectly and we couldn't have asked for more. I received several complements about yourself and the music and uplighting as well, all our guests had such a great time! Ben also did an amazing job, our guests loved him during cocktail hour! You really helped complete our perfect day and we cannot thank you enough for everything!
Cathlene and Doug - December 2, 2016
Absolutely amazing service, and music! Had the whole wedding up and dancing, including himself! Sam is great to work with, very professional! Our wedding wouldn't have been the same without him!
Robin and Eric - October 22, 2016
My husband and I are so happy we chose Atmosphere Productions as the DJ for our Wedding! Sam was actually also the DJ for my parents wedding 26 years ago!! Sam was an absolute pleasure to work with and made our reception truly unforgettable! He is such an amazing DJ but does way more than just play music. He creates the atmosphere for the room and gets everyone on the dance floor for the whole night! He is an entertainer and does a phenomenal job! We would recommend Atmosphere Productions to any one without hesitating!
Alicia and Ben - September 24, 2016
DJ Sam and his daughter Chloe were amazing. I'm not sure where to begin, 26 years ago 9/23/1990 we hired DJ Sam for our wedding and because we loved his personality and the life he brought to the reception we contacted him and passed his information on to our daughter for her 9/24/2016 wedding. Thank you for making our daughter and son in law's wedding perfect from the ceremony music to keeping the party going with a full dance floor all night not to mention all the special personal touches you offer and personality you brought to the evening. You're the best DJ Sam, looking forward to seeing you again.
Liz & Harold Martino ~ Parents of the Bride - September 24, 2016
My husband and I were married at Lake of Isles on 9/23/16 and DJ Sam provided a cocktail hour violinist, lighting, and of course DJ'ing for the reception. From the initial phone call and meeting with Sam we knew that we wanted him to be our DJ. He is so professional and really makes you feel at ease that he is going to take care of everything so you don't have to worry about anything on your big day. The Google Doc planning sheets were very easy to use and helped to keep us organized, and were also great to give to other vendors so they knew what the schedule was for the reception. He was AMAZING during the reception, and people were on the dance floor all night long! At some points people were dancing on the carpet because there was no more room on the dance floor. DJ Sam will tell you throughout the process that he will "read the crowd" and play what he thinks will keep people on the dance floor, and he definitely did. The lighting in the room was stunning, exactly what I had envisioned. I would 100% recommend DJ Sam. He is reasonably priced and worth every penny!
Robin and Derek - September 23, 2016
Everything was perfect from start to finish.  Absolutely amazing day!
Heather & Aaron - September 17, 2016
Thank you doesn't seem enough! You are more than a DJ. You kept me calm throughout this entire process. You are amazing, you have a fine attention to detail and my night was one to remember. All of my guests commented on how wonderful the wedding was and that we had a great selection of music….I can't wait to be dancing on your dance floor again!!
Nancy & James Flaws - September 11, 2016
The evening from start to finish was great.  We loved how DJ Michael worked with us on our opening song by combining two songs…. We would love to do it all again with DJ Michael and would let all our friends know about you guys!! Thank you again for making our night to remember.
Natasha and Steven - August 27, 2016
Everything was excellent.  Prep for the wedding was easy and painless….. It was nice to talk to an experienced DJ who offered advice but let us know it was okay to do things "our way"!  The cocktail hour, dinner and dancing was exactly what we were looking for.  Our friends and family had an amazing time and we know music was a big part of that.  Thanks again for an amazing day, DJ Sam!!
Stefanie and Rich - August 27, 2016
DJ Sam was a professional since day 1!!  is organization and attention to detail sets him apart from the rest.  He truly let us make our day the best day ever. I think what I remember most was his excitement for our selections.  Our day was truly unique to us and perfect for what we wanted.  I would highly recommend DJ Sam to anyone and know you are not just hiring a service you are choosing the life of the party that will keep the dance floor packed ALL NIGHT!!!  Thanks again DJ Sam and ATMOSPHERE PRODUCTIONS for making it the best day of our lives!
Lauren and Joe Ingriselli - August 26, 2016
DJ Sam was so wonderful to work with!! He went with our non-traditional style without judgment and helped us create a really special ceremony and reception. I literally danced the entire night; our family and friends told us it was the most fun wedding they had been to! He checked in with my now husband and I throughout the night and guided the events throughout the night seamlessly. I would definitely recommend him! From the husband: I just want to add that my wife did literally dance the whole night; not only that; there were moments I would look around the room and see our aunts and uncles dancing whom I'd never expect to see out of their chairs; he got everyone moving! In addition, DJ Sam played really fun songs; he listened to our requests and thoughtfully included them in the playlist. Lastly, he went up and beyond helping with the toasts our parents and family gave. His assistant was always ready with the microphone and he even sent out suggestions to our parents on how to give a good toast!
Rachel and David Sokoloff - August 21, 2016
Dear Sam, We just returned from our honeymoon last night and have still been talking about our wedding!! You and your staff were so wonderful and made such an unforgettable night!! The music for the ceremony, cocktail hour and reception is all we could have every imagined and more!!  Thank you again for everything!!!!  Sam is just spectacular from beginning to end. I loved all the planning and preparation he puts into your day. He creates Google planning sheets with you that help to answer any and all questions that are possible for the day. He will know everything possible for the day from the song for your first dance, to when the cake cutting will happen. He is more than just a DJ, he sets the tone and the organization for the whole evening, making every moment effortless and memorable! We also chose to hire live musicians through Sam for the ceremony and cocktail hour. He made this so easy and I loved how the musicians were contracted through Sam and we didn't have to go out and look for our own live musicians. The music for the evening was more than we could have ever imagined! I felt as though the music was so perfectly timed, with almost every song being played that we had requested on the planning sheets. He did such a fantastic job making sure people stayed on the dance floor and this included people of all ages! It seemed as though he layered the music so it kept all ages on the dance floor through the whole night! I think our wedding guests would have kept dancing 2-3 more hours if we could have!! I cannot say enough about Sam and Atmosphere Productions! I highly recommend his services, make sure you book an appointment to speak with him and see what he is all about, otherwise you will be sorry!! Definitely a "must" for your wedding!!!
Marissa and John Carlson - July 9, 2016
Dear Sam, I wanted to say thanks for last night. You did a fantastic job and were a major reason why the night went so well. This was the 3rd wedding you have done for either family or friends and once again you didn't disappoint.  We will be recommending you for anyone we know who gets married in the future. Thanks again and cheers.
Ben and Courtney Kulas - July 8, 2016
Everything was great! We couldn't have asked for a better DJ to coordinate our Ceremony music and Reception. The dance floor was always packed and we heard so many great comments.  Thanks for your professionalism and all your help to make our wedding one we'll never forget.
Kelly & Steve Stephanou - June 24, 2016
Thank you and DJ Michael! He did a great job and we had a terrific time as a result. Many guests commented and of course we will recommend !
Diana and Hal Oberg - June 18, 2016
Dj Sam at Atmosphere productions did such an amazing job at our wedding. Right from when we first booked him, he was very responsive to all our emails and questions. He is extremely organized which made it so much easier for us since we had so much going on with the wedding planning. It was nice to have a one on one meeting with him and he was always available to speak to us over the phone if we had any questions. On our wedding day, he did an outstanding job leading the whole reception. His voice was friendly, loud and clear and his music kept everyone on the dance floor all night. We also used him for his lighting service and oh, how beautiful he made the reception hall look!! We would 100% recommend him to anyone looking for a great DJ!! You definitely will not be disappointed! We could not be happier with our decision to choose Atmosphere Productions!!!
Malissa and Ryan Tibbling - June 18, 2016
Highly recommended from our friends after you were their entertainment for their wedding! DJ Sam you are phenomenal. Thank you from both of us.
Melanie and Jake Teixeira - June 10, 2016
Hi Michael…..we want to thank you for the outstanding job you did at our wedding. We couldn't be any happier with how everything went.  We really appreciate your enthusiasm, organization, and professionalism!  We received so many positive comments about how the day flowed and how you brought all aspects together.  We put our full faith and confidence in you and we were well rewarded.  Thank you for orchestrating a perfect day, we thoroughly enjoyed it!   We will not hesitate to recommend you and your company in the future.
Dan and Donna O' Connell - May 21, 2016
Thank you for making our wedding incredible. Your professionalism and attention to detail were highly appreciated. Meg and Ryan Ross - December 5, 2015
DJ Sam and Atmosphere Productions was wonderful! He was very friendly and patient throughout the planning process, and a very calming presence on the day of the wedding. He is a great communicator, and always on top of planning and deadlines. He was extremely engaging and entertaining as a DJ, and made sure everyone had a good time. Highly recommended! Serena & Thomas - November 7, 2015
I don't think we could possibly thank you enough for performing and playing at our wedding.  I have never been to such a FUN wedding and it was largely due to you both, DJ Sam and your assistant Chloé!! I would recommend you in a heartbeat!! Thank you for being AMAZING!!!! MaryElizabeth and Dan - October 24, 2015
Great to work with and provided great music and entertainment for my event!  Loved the photo booth as well! Sarah & Frank Wells - September 27, 2015
We were so glad to have DJ Sam and violinist Ben for our wedding day! DJ Sam was always easy to contact and quick to respond via phone and email….. 
DJ Sam was awesome during the reception; he made the bouquet/garter toss fun and kept our friends on the dance floor through the whole reception! He took our requests to heart by playing what we wanted but avoided the cliche songs that we did not want to hear. Our guests said that it was one of the most fun and enjoyable weddings that they have attended. We fully recommend Atmosphere Productions!
Abigail & Chris - September 25, 2015
DJ Michael, Chris and I  can't thank you enough for everything you did to make our wedding day sound great!  You were such a pleasure to plan with and we had such a fun time throughout the day!  Thank you again!! Chris & Cristina - September 19, 2015
DJ Sam was awesome! Super professional and a really nice guy.  They did a great job at our wedding, everything we asked for and more. Highly recommended! Gary & Sarah - September 12, 2015
DJ Sam was amazing! He really helped to tie the whole wedding together. His experience with weddings and the processes were so valuable. There are tips he gave us that I don't think we would have thought of ourselves! Andrea & Nick - September 6, 2015
DJ Sam and his assistant Chloé were absolutely amazing. By the end of our wedding, we were told it was the best one our guests had ever been to, and were asked about the DJ quite a bit. DJ Sam kept the party going, picked great music for the mood, and was incredibly organized and helpful. Definitely recommend him for any and all events! Dan & Gwen - August 29, 2015
DJ Sam was great!  All of our guests have mentioned how they both loved the music selections and the flow of the reception.  As he was getting set up I was getting ready to step out of the reception space and head down the aisle, he played "Going to the Chapel" as I was waiting to go out.  It put a smile on my face!  We would definitely recommend him! Katie & Jim - August 23, 2015
DJ Sam is a true professional and was one of the reasons that our day was so special. We would recommend him to anyone. Like he says he may be pricier than other DJ's but we were more than happy with the value we got! Kristen & Nick - August 22, 2015
Thank you for supporting my daughter's wedding reception last weekend at Simsbury Inn – and all the things you did to keep things moving – in particular our  "My Girl" rendition.  We all had a lot of fun and many people came up to tell us it was one of the best – if not the best – wedding receptions they experienced in a long time. R.C - Father of the Bride - August 15, 2015
DJ Sam was our DJ at our wedding reception…. He was great from the beginning to the end of the process. He sat down with us and explained what to expect and exactly what he would need from us. He also had great ideas and suggestions we had not thought of. He was attentive to everything we wrote down on our planning form as well as the song suggestions we made…. He made sure he had all our information a couple weeks before the event and even checked in the week of to make sure there weren't any changes. On the day of the wedding we arrived at the venue a little earlier than expected and he was flexible about starting a little earlier than planned. He had everyone on the dance floor! We did pay a little more than other DJs we had considered but Sam won us over with his professionalism. Our peace of mind was worth it! Thank you Atmosphere Productions!! Marcia & Chris Wyvill - August 8, 2015
DJ Sam was fantastic! He had a great attention to detail with the entire planning process and made us feel confident that everything would go smoothly! He had our guests dancing all night! The up lighting he provided was perfect and made the room look so beautiful! We cannot thank him enough for making our day so special!!
Lindsay & Michael Keehan - June 6, 2015
We would like to thank you DJ Sam from the bottom of our hearts for such a great day…. We could not have asked for anyone better to DJ our wedding.  From the very beginning you were patient, kind, caring and professional.  Sam, You worked with us from day one and never judged us on what ideas or songs that we had for our special day and making it special for us…. Our friends and family have nothing but wonderful things to say…. Thank you for being a part of our wedding and all of the memories we now have for a lifetime. Allison & Andy Mulh - May 9, 2015
Emily & Alex Reyes – March 22, 2015 – E. Hampton, CT
Thank you so much for such a fabulous job at our wedding! You were great and so funny and flexible with the changes!! Everyone thought you were awesome and everyone had a blast! Thank you so much!!!!
Krissy & Drew Gombatz – January 16, 2015 – Newington, CT
DJ Sam was great and made sure all of our concerns were addressed. The wedding went flawlessly and he did a great job with the up lighting as well.
Kathleen Hufnagel (Mother of the Bride) – November 29, 2014 – Stamford, CT
You did a fabulous job, Sam! Most of the time, the dance floor was filled w/both Shanna's guests & Anthony's guests!! It was pretty obvious the "love of dancing" and love for Shanna & Anthony was all around!! Thanks Atmosphere Productions
Bethany & Thomas Kummer – October 24, 2014 – Manchester, CT
I'm so happy we chose you as our DJ!!!  You made our wedding fun and got everyone dancing.
Sandy & David Celello – October 11, 2014 – Thomaston, CT
DJ Michael was amazing!!!  He helped us from day one and was right by our side straight thru to the end of the reception.  He got the guests going with energy right from the start and it continued all night long.  We highly recommend DJ Michael and all of Atmosphere Productions.
Nichole & Brian – September 6, 2014 – Vernon, CT
From the first phone call we hit it off with DJ Sam.  He is extremely easy to get i touch with, as well as flexible with meeting times.  He truly got an essence of who we are as a couple and what we wanted out of our wedding reception. His information paperwork is well organized and gives you ideas for ways to organize your reception.  He controlled the flow of the reception wonderfully without taking away from the party….very professional, but FUN!  A DJ can either make or break your wedding and DJ Sam made ours!
Meredith & Michael – September 5, 2014 – Marlborough, CT
Excellent job! Everything perfect.  Thank you from start (planning) to finish!
Kate & John Scurlock – August 23, 2014 – Baltimore, MD
We cannot thank you enough for helping us throw the most amazing reception ever!! It truly was perfect from top to bottom.  Music was awesome, the lights were perfect (thanks for convincing me), and the photo booth was a real hit!  We got nothing but praise from everyone.  The dance floor was packed all night long.  My only complaint was that it went by too fast!!  Thank you for helping my Dad with our father daughter dance introduction.  That was a huge surprise to me and made it very special.
Al Masciocchi (Father of the Bride) – Kate & John – August 23, 2014 – West Hartford, CT
Last week was fantastic!!!  You did an unbelievable job; I can't tell you how many compliments I heard about the music and your emceeing of the evening.  And the photo booth was a huge hit!
Laura & Eric Jay – August 9, 2014 –  South Windsor, CT
Thank you so much for playing great music.  We appreciated how organized you were.  It really took a lot of pressure off
Jennifer & Hadi Khatib – August 2, 2014 –  New York City, NY
DJ Sam rocked.  Was very thorough and responsive in the months, weeks and days leading up to the wedding.  Took all my notes over several emails and confirmed details with me.  Did a good job taking the temperature of the room during the wedding and playing an appropriate amount of each type of song (modern hip-hop/pop vs. classic wedding dance vs. middle eastern music), and genuinely seemed to enjoy himself.  Especially if you are doing a wedding at St. Clements, or some other such venue that DJ Sam has experience doing, you won't be disappointed!
Carla & Bill Cullinane (Parents of Danielle & Scott Salway) – August 1, 2014 –  Glastonbury, CT
Thank you.  There is nothing which impacts a wedding reception more than music.  You certainly made the evening and kept all our guests involved.  The Cullinane and Salway families appreciate your work.  You made Danielle and Scott's wedding day more exciting and memorable for all of us.  Thanks.
Avielle & Gregg – July 5, 2014 –  Wethersfield, CT
Sam, a big thank you from both Avielle and I! What a great, fun and dance filled wedding. We appreciate your service and wrote a few great reviews.  Thanks again for making our big night a very memorable and fun night for everyone who was in attendance!
Lisa & George Zargos – June 22, 2014 –  Shelton, CT
Thank you so much for the wonderful job you did at our wedding. Your talent and professionalism were very much appreciated. I have received many compliments about the music that day.
Shannon & Dale Warren – May 17, 2014 –  Barrington, NH
Thank you!  DJ Michael was awesome!!  He looked for all the music we requested and made us feel really good about our selections.  Was very professional and friendly and managed the timing of the whole thing was perfect.  DJ Michael ROCKED!!
Kim & Scott Close – May 17, 2014 – Weatogue, CT
DJ Sam did a phenomenal job!  He was professional, prompt responding to emails/calls and fun.  Our guests loved his music selections and everyone was on the dancefloor all night.  I would absolutely refer him to others and I would use him again for another event.
Molly & Tal Levinson – February 9, 2014 –  New Haven, CT
DJ Sam kept the dance floor packed all night long! He was incredibly helpful, kind, and easy to reach during the planning phase, and the day of he was just perfect. We were kind of particular about the music at the wedding, and he really respected our wishes and worked with us on a personal level. I feel like he really cared about our vision for our wedding. We couldn't have made a better decision with our DJ. Thank you, DJ Sam! Other couples, look no farther, we are sure this will be a great decision!
Dina Garafola (Mother of the Bride) Rebecca & Gordon Holmes – November 30, 2013 –  Coventry, CT
Thank you Sam and Chloe (the Lighting Technician) for a wonderful time. Your professionalism was out standing, and your service was amazing. You truly did provide Rebecca and Gordon elegant entertainment. Our guests told us this was the best Wedding they ever attending at St. Clements Castle.
Maria & Brian Carl  –  August 17, 2013 –  Manchester, CT ~ on their 1 year Anniversary
Thank you DJ Sam! The past year has been very busy and very blessed! ….We are so thankful for what a fabulous job you did providing music at our wedding and reception.  Our friends and family still rave about what a great time they had dancing and grooving! Thank you again! I can not say it enough….. You made our day super special!
Suzanne & Daniel Flynn – August 3, 2013 –  Bristol, CT
DJ Sam was amazing! Everything on our wedding day went smoothly and prior to the "big day" communication was at an amazing level.  Always prompt and courteous.  The uplighting was a nice touch to add a special magic to the night.  If you want to have a good time at your event AND know your in good hands, then go with DJ Sam! He made our customized night truly unforgettable and magical!!!!.
Elizabeth & Mike Eagan  –  July 23, 2013 –  West Hartford, CT
We had a wonderful time at our reception thanks to you and your daughter and lighting assistant, Chloe' (and the lighting was perfect- glad she's not color blind like me). We've had A LOT of friends get engaged since our July wedding and have been spreading your name to all of them. Hopefully we'll se you in the future at one of their receptions!
Mallory & Ryan Williams  –  July 20, 2013 –  Belmont, MA
You did a fantastic job at our wedding! Thanks for being so accomodating with all of our requests and last minute changes! The ceremony and reception music was perfect—and the uplighting in the main room looked incredible. We can't wait to get our pictures back to relive it all again, and to check out some pics of the dance floor! Thanks for keeping the tempo so upbeat the whole time, you sensed the mood of our friends and families well!….You'll be highly recommended from Mallory and I.
Ali & Phil Naglee  –  December 31, 2012 –  Atlanta, GA
Thank YOU so much for an incredible night. Nobody left the dance floor! Of course, I'm biased, and think our wedding was the best wedding I have ever been to but I'm so flattered to hear you say it was one of your favorites too! I really appreciate your professionalism and you were so easy to work with. I will definitely (and already have) recommend you to others.
McKenzie & Jeff Petersen  –  November 2, 2012 –  East Hampton, CT
Thank you so much for DJing our wedding, we had such a wonderful time.  You did a fabulous job keeping the dance floor packed, just like we wanted!!!  Everyone has told us what a great time they had and that the music was awesome.  We owe that all to you so THANK YOU!!!  The lighting was perfect as well, it's exactly what Jeff & I envisioned.  You were awesome!!!
Brooke & Jonathan Leone  –  October 14, 2012 –  Amston, CT
Thank you so much for the amazing job that you did at our wedding last night. To both Jon and I, one of the most important things that makes a wedding is the music and DJ entertainment. You did a phenomenal job of helping to run the night smoothly bringing a great mix of music, entertainment, humor and perfectly catering to the crowd we had. Thank you so much. We were so happy with everything last night and owe a lot of credit to you. We will definitely pass your name around. Thanks again for a night we will remember forever.
Jena & Kyle Reasinger  –  October 13, 2012 –  Rocky Hill, CT
Sam was great to work with, ALWAYS available when needed and prompt to return any calls or questions.  When it came to the day of the wedding, he EXCEEDED our expectations!  The music was exactly what we wanted and more.  Our guests as well as ourselves had a fabulous time!!!! Thanky you!!
Lianne & Kyle Reed  –  October 12, 2012 –  Norwalk, CT
Kyle & I we SO PLEASED with how the wedding came out and we could not have done it without your amazing professionalism and expertise!  We knew we could count on you to keep the party going.  The music selections were wonderful, the lit dance floor looked GREAT!!  It was so awesome to see everyone up on the dance floor rocking out the whole night!!!!  We will recommend you 100% to anyone who will listen…THANK YOU!!!
Kaitlin & John Voglesong  –  September 29, 2012 –  West Hartford, CT
DJ Sam…..Thank you sooo much for the fabulous time we had on Saturday!! I literally lost my voice from singing the whole night and my feet are still numb from all the dancing! Our families are no joke when it comes to dancing. Everyone was talking about how amazing you were the rest of the night and into the next day and still comments on my facebook!! Seriously the most dancing we have ever done at a wedding. The dance floor was PACKED the entire night and you were just soo amazing!!  I already recommended you to someone I work with……
Ashley & Frank Picazio  –  September 28, 2012 –  East Lyme, CT
We could never thank you enough for the amazing job you did on our wedding day!  Our guests continue to say how FUN it was and that our DJ was amazing.  It is so fun to see how much you love your job…. you are a rare and amazing DJ.  The more fun you had, the more fun our guests had!  You made sure all our requests were heard and played a huge part in making sure we had the perfect day…. I know you will be the only DJ recommendation that we ever give, THANK YOU!!
Heidi & Boyd Cruel  –  August 18, 2012 –  Chicago, IL
As I told you on Saturday night, you did a great job!! …..Meant every single word of it…you definitely put us at ease from Day 1. It was one less thing to worry about……Everyone had a great time!!  We will be more than happy to provide a positive review and will definitely be referring your services to family and friends. If you ever run into potential couples who want to speak to people who have used your service, we would be more than happy to speak with them.
Lynn & Michael Jimenez Parents of Grace & Chris Meyer  –  June 2, 2012 –  Harrisonburg, VA
Thank you so much for making Grace and Chris' wedding such a resounding success. Everyone has complimented you and the other vendors for their professionalism and service…. the room was beautiful and the lighting perfect. A Plus to all! Feel free to let everyone know that their event is in great hands with Atmosphere Productions and DJ Sam!
Carl & Roseanne Earn Parents of Jeanna & Paul Reale  –  May 20, 2012 –  Wethersfield, CT
DJ Sam & Chloe' – Thank you both so much for helping to make Jeana & Paul's wedding special and fun! Carl & I were so relaxed with how you organized everything. You could tell by the packed dance floor that everyone was having a terrific time. The best DJ is so important. We were so impressed…. Thank you so much.
Kara & Andrew Hesse   –  May 12, 2012 –  Middletown, CT
Thank you for an amazing job with our wedding reception!!  Your attention to detail throughout the planning process put us at ease because we knew the reception would be perfectly executed – and it was!  The announcements were professional and fun, and the music selections were spot on… you read the crowd so well, and we couldn't believe how many of our guests got on the dance floor!!  EVERYONE had a fantastic time and raved about the DJ (they're still talking about it!).  We would recommend Atmosphere Productions to anyone who wants to host a well-organized, professional, fun and classy event.  We couldn't have asked for a better reception and we owe a lot of that to you!!!  Thank you again for an exceptional wedding reception.
Lindsay & Matt Zaczynski   –  April 28, 2012 –  Windsor Locks, CT
DJ Michael was awesoome!!!  He did a great job with all the music selections and our guests were very happy with him.  Thanks!
Aubrey & Graham Rowe  –  April 22, 2012 –  Manchester, CT
As people who thought we wanted to have a DJ with no input, our wedding would NOT have been a success….DJ Sam was fantastic.  He played all of our requests and special songs.  In addition he read the room and made sure people stayed on the dancefloor all night long.  We had multiple comments that it didn't feel like a Sunday night wedding….they were having so much fun.  I would recommend him to anyone!  He truly is an event coordinator, making sure the entire night went smoothly, even when timelines had to be changed at the last second.
Melissa & Mauro Biondi  –  April 14, 2012 –  Milford, CT
Mauro & I can't thank you enough for everything! We had an amazing wedding day and the most perfect party!!!! YOU ROCKED!!!! And thanks for the extra special lighting surprise!!! Loved it!!! We already saw some pictures and the lighting during dancing looked awesome! We're so happy & pleased with your service and would have you dj another event in a heartbeat… and we'll pass the word along to others too!!! Many, many, many thanks for helping make our wedding everything we dreamed of… and then some 🙂
Raeann & Evan Schwartz  –  March 31, 2012 –  Glastonbury, CT
DJ Sam really knows how to get the party started and keep the music going all night. We also had a strolling violinist for our ceremony who played anything from Coldplay to Frank Sinatra. Everyone at our wedding complimented the music. I would strongly recommend Sam, he takes time and listens to exactly what you want and delivers!! I would also recommend upgrading to a lighting package. For the little bit extra, it makes the ambiance and pictures amazing.
Julie and Tyler Stevens  – December 31, 2011 –  Farmington, CT
DJ Sam really got the party started once the meal ended. All guests were on the dance floor the entire night!  Everyone had a fabulous time dancing to a variety of music. We all had a blast taking pictures in the photo booth and love the book provided with all the memories captured!  DJ Sam was absolutely wonderful to work with, meeting all our entertainment needs. He is a true professional and an expert in his field. Our wedding wouldn't have been the party of the year if it wasn't for him! Many of our guests have told us our wedding was the most exciting wedding they have been to in a long time. We have DJ Sam to thank for that, we couldn't agree more!  We 100% recommend Atmosphere Productions for any event.
Sally & Steve Caplette  – November 26, 2011 –  East Hampton, CT
I never even met DJ Sam until our wedding day but his personality won me over during our phone conversations!  Steve and I did not get married at a church, so DJ Sam helped us through the whole ceremony and reception….. We never even had a rehearsal but who needs to when you have DJ Sam.  I felt like you where my wedding planner.  If it wasn't for you I would have freaked out all day!!!  Thank you sooooo much!!!
Jamie & Adam Roshka  –  September 30, 2011 –  North Haven, CT
Everyone at our wedding commented on how great the DJ was and how they felt ours was the best wedding they've been too!!  ….Adam and I turned around at one point and saw ALL the tables were empty because everyone was on the dance floor… DJ Sam was professional, well prepared and a great party mover!!  The Photo Booth was great as well.  Everyone had fun with it and we got to walk away with an album of hilarious pictures.
Allyson & David Hirst  –  May 7, 2011 –  West Hartford, CT
DJ Sam was fantastic!  We had been referred to him by a friend of ours who was familiar with his services, and he definitely did not disappoint!  He was on spot with all of our requests and needs, and even when the reception had a late start due to difficulties we experienced with our transportation, he was able to re-work the evenings order of events, so we wouldn't be losing time on the dance floor.  Hands down, I would definitely work with him again and refer any of my friends to him.  His professionalism and ability to work guests of all ages kept the party going until the end of the evening.
Katie & Brian Boyle – December 11, 2010 –  West Hartford, CT
Brian and I wanted to officially thank you for doing such a great job DJ'ing our wedding.  You incorporated the songs we picked in just the right moments and you definitely have a knack for reading the crowd. Everyone loved the music and said they had the best time!  You are a true professional, classy but fun – a perfect combination.  We will recommend you to all our friends.
Leah & Shawn Burke – November 27, 2010 –  West Hartford, CT
We wanted to tell you how happy we were with your music and entertainment for us on our wedding day. We had a blast at the wedding, loved the uplighting, and really appreciate your services! The wedding went so smoothly with your help! We had many compliments on how great you were, and we agree!  We had such a nice expereince with you and will definitely spread the word!
Marisa & Christopher Farrell – October 31, 2010 –  Danbury, CT
Thank you again Sam for making our wedding fantastic!  My mom was so happy with the way things turned out- she loved you!  Our guests were so happy, it was truly the most joyous event!  I just wanted to take a moment to thank you from both Chris and myself.  We were both nervous about the wedding, but it all came together so well!  I will of course be happy to recommend you in the future to any friends getting married!
Susan – Mother Of The Bride – Stephanie & James McNabb – August 14, 2010 – Glastonbury, CT
I am trying to take a few days to regroup before I contacted our vendors but I did want to email you and tell you that everything was excellent.  DJ Dave was professional, organized, timely and the music he chose was perfect.  We had a full dance floor almost all night!  The wedding was one of those rare times when everything went exactly as planned.  It couldn't have been a more perfect night.  Of course the performance of the people executing the plan is the key component to success.  Your company performed exactly as planned and with style.  Thank you so much for a fine job.  I will definately refer you to anyone looking for a professional DJ service.  We have one more daughter to be married at some point and you will be on the list of people to call!  It was a pleasure working with you.  Thanks again!
Yvette & Brian Lumor – May 21, 2010 – Charlotte, NC
Sam did an amazing job and made our wedding the best it could be. At first, we were nervous because we wanted our guest to have a great time and remember nothing but good things about our wedding. Also, we had special songs that we wanted Sam to play during the wedding, without interrupting the flow of the wedding. Sam was able to provide that and more. All of the guest claimed it was the best wedding they ever been to. They all were on the dance floor until the very last dance. There was this one lady who was going to leave early, but on her way out, she heard the next song and went charging back onto the dance floor. We were amazed of how all of our guests continued to talk about our wedding for the next week, and still are amazed about it. It was Sam who made the wedding fun and amazing for all of our guests. We were glad and honored to have Sam at our wedding, we had such a great time and will recommend him in a heartbeat.
Amanda & Eric Hunter – May 1, 2010 – Jewett City, CT
We just wanted to say thank you again for an awesome night. We knew from the first time we met you that you were going to be a great DJ and entertainer. Everyone had great comments and people asked where we found you… Another thing we loved that you did was the song where you incorporated the vows and the speeches into the song. That was awesome and totally unexpected and we, and everyone else, loved it and were amazed at how fast you could do that… If anyone ever asks for a DJ recommendation, you're getting it.
Nicole & Conor Thomas – Destination Wedding: Montego Bay, Jamaica – April 16, 2010 – Vernon, CT
We could not have asked for more from a DJ than what we got for our wedding. Half an hour before the wedding, it started to downpour and Sam and our photographer worked with the wedding coordinator to determine a new location that would give us what we wanted without letting the rain ruin our day. Sam went above and beyond to make sure the locations for the ceremony and reception worked with what we wanted out of our wedding. The only indoor space they resort had was very small and not the most conducive for the amount of people attending. DJ Sam moved some tables around, and with his experience was able to get the whole crowd involved, and keep the fun going all night (even longer than we had the room and equipment for). We spoke to a lot of individuals during the bridal shows and I don't believe we would have had the same experience with any of the other DJs. We were blown away by DJ Sam's experience and his knowledge of how to work the crowd and keep the party going, and would recommend him to anyone.
Angela & Rob Mota – December 5, 2009 – Brookline, MA
In the months since our wedding we've heard from many of our guests of all ages that our wedding was the most fun of any they'd been to.  Much of that came the professionalism, expertise and performance of DJ Sam.  Thanks you!!  We would absolutely recommend him to anyone else without reservation.
Laura & Chris Primavera – September 26, 2009 – Manchester, CT
We honestly can't say enough about how wonderful DJ Sam was for our wedding! The song selections were EXACTLY what we wanted.  Dj Sam was more than organized and efficient.  I thougt I had all the details under wraps until DJ Sam brought up some great stuff I didn't even think of during our meeting!  We highly recommend his service.
Melissa & Michael Muszynski – August 28, 2009 – Wethersfield, CT
You were the first DJ we called and the last.  It's not just about playing music, it's about being passionate at what you do and what you do is an ART!  We could not have asked for a better DJ. Your music reflected who we are as a couple and the reception was a success, because of your music and professionalism. You answered all my calls, hundreds of emails and gave me one on one personalized attention – something every bride needs. You are the best of the best. I will refer everyone looking for musical entertainment both in the private and corporate world to you!…. Your work will forever be a part of our family celebration – our wedding.
Ashley & Joseph Caputa – July 31, 2009 – South Windsor, CT
What a FUN night!!!…Thank you so very much for the entertainment you provided… Guests both young and old praised the music selections – which is s credit to your ability to adapt the music to meet the needs of all people.  You were organized, easy to communicate with, professional and classy.  You made our day!….Thank you for making it possible!
Gina & Garrett Denniston – July 25, 2009 – Fairfield, CT
I can't tell you how many people have commented on what a great job you did and how you were able to keep the party going all night. I'm really glad we picked you for our wedding. I'll definitely recommend you to anyone in the future that needs a DJ for a wedding or special event. Thanks so much!
Randie & TJ Phillips – July 4, 2009 – Bridgeport, CT
Sam, as the Master of Ceremony, made the wedding quite a success!! Our guests commented on our wedding being one of the best (if not THE BEST) wedding they have ever been to. They said they loved our DJ and had a great time dancing all night. We loved your attention to detail and you playing all the music we requested throughout the evening!
Nicole & Chris Geier – June 26, 2009 – Manchester, CT
Amazing job, Sam!  You present yourself so well and you remained so professional throughout the entire process.  EVERYONE enjoyed the entertainment at the reception!  You always promptly returned messages and answered any and all questions we had.  Thank you for your help in making our wedding day a day we will never forget!…. You remained professional through the entire process.  We had such a great time and so did all of our guests.  We recommend you to EVERYONE!
Kristin & William San Giovanni – June 20, 2009 – Boynton Beach, FL
DJ Michael was amazing!  Everyone at the wedding was thoroughly impressed!
Karen & Anthony Atkinson – April 25, 2009 – Ledyard, CT
The main reason our reception was FUN was because of the MUSIC!  Several people commented to me that they've never been to a wedding where so many people were dancing…. I had a long list of songs to play and DJ Sam played them all. His ability to "read the crowd" truly made the party a hit…. DJ Sam was always quick to respond to my questions during the planning process, which really put my mind at ease.
Julie & Sean Hetherington – November 1, 2008 – Manchester, CT
First off I wanted to thank you for the wonderful job you did at our wedding. YOU kept the dance floor filled all night, and people are still talking about how good the music was. I know at the last minute I decided to make edits to the playlist, and you were more then welcome to help me.  Both of us had the same goal….to keep the dance floor packed!!!!  Thanks again for all your help and the wonderful day you created for us. You really lived up to your reputation and I appreciate your hard work.
Kelly & Derek Gosselin – October 18, 2008 – Springfield, MA
Derek and I want to thank you again for performing at our wedding and the amazing job you did with the song selection. We received so many compliments, especially regarding the dinner music selection. Everyone said that the Big Band and Jazz selections added a classy touch to our wedding. THANK YOU! Derek and I also loved the compilation that you made with our ceremony and speeches included in it. We thought it was great!!
Sarah & Jon Potterton – August 23, 2008 – Ann Arbur, MI
Wow!  What a wedding!  You truly made the day perfect.  Thank you so much for stepping in when the piano did not work – you saved the day.  All of our introductions were done very clearly and smoothly.  DJ Sam has a wonderful rapport with people and an energetic personality.  You really know how to get a party started and keep it going all evening.  We had so much fun on the dance floor – there was a lot of energy. We, at one point, had to ask for a slow song to rest alittle.
Cynthia & Chris Kennedy – August 15, 2008 – Enfield, CT
We picked The Bond Ballroom because we wanted our wedding to be about casual elegance – great room for atmosphere, but big dance floor for fun.  Everyone said our wedding was loads of fun.  We and others believe the DJ deserves much credit for helping our guests enjoy the day.  So great job and thanks.
Beth & Michael Moravecek – July 12, 2008 – W. Hartford, CT
The music, enthusiasm and quality of entertainment was excellent.  The music and announcements were well timed and gave us the chance to have fun without an agenda.  Thank you for making our wedding so wonderful.  We appreciate all your hard work.  Thank you!
Krista & Jason Peltz – May 23, 2008 – Lebanon, CT


Listen to live rare broadcasts of DJ Sam on this classic Hartford R&B, Classic Soul & Jazz music radio station.  WKND was the ONLY Connecticut Black Music station in the 60's & 70's and a powerhouse for R&B music in the 80's & early 90's.  From 1988-1992 the legendary on-air line-up talents of Eddie Jordan (Morning Drive), Sam Harrison Jr. (Gospel), Sylvester Samuels (Mid-Day) & Melonae McLean (Afternoon Drive) graced the Greater Hartford airwaves.

Click HERE…and enjoy!
DJ Times
DJ TIMES – Mobile of the Month – June 1996
The International Magazine for Professional DJs
For Hartford's Atmosphere, Getting Associated Helps
By Brian O'Connor, DJ Times
West Hartford, Conn.
– Fewer cities were hit harder by the early '90's economic recession than Hartford, the insurance capital of the Northeast. Oddly, one result of such economic misfortune was a marked increase in the number of mobile DJs, according to Sylvester Samuels, owner of Atmosphere Productions in West Hartford.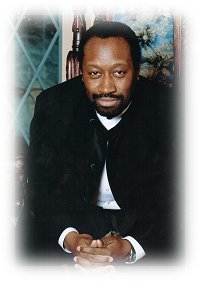 "We found that with the recession, the quality DJs were still getting a lot of work, but we also found that many of the laid-off people started DJing to make ends meet," says Samuels, who has been operating in the Hartford area since 1981. "We were getting a lot of bottom feeders. I would bid a job and get undercut $200 by someone who had very poor equipment." In response, a frustrated Samuels allied himself with the upper echelon of Connecticut's mobile DJ operators, hoping the clientele would discover that a hierarchy of professionalism existed in the region. "In effect, the recession prompted me to become a member of the Connecticut Professional Disc Jockey Association," says Samuels, who joined the organization in 1994 and currently edits its newsletter [and is on the Board of Directors]. "Now that the economy is starting to pick up, we're finding a lot of those "bottom-feeder" DJs are gone. I've tracked Yellow Pages advertising for years, and it has gone down about 50 percent from what it was in the early 90's." Samuels is unsure whether that is a sign of improved economic times or an indication that the disc jockey association helped squeeze out some nonprofessionals. Whatever the case, by joining an association Samuels polished the quality of his marketing efforts and his performances. "When I first started Atmosphere Productions, I would run a few little advertisements in local papers, I would hand out lots of business cards to friends, and I would leave cards in shopping centers and stores," says Samuels, who started his company on a part-time basis in 1981 and went full-time in 1986. "Like most DJs" he says, "I had always felt what I was doing was the right thing, but later I joined the DJ association and started going to the International DJ Expo, I realized that there was a lot of stuff that DJs were doing in other markets that I could fine tune for my market." For his bridal clients – more than 80 percent of Atmosphere Productions gigs are wedding affairs – Samuels gets a mailing list from various bridal shows he attends, and direct mails every bride on the list. "It's a twofold strategy," explains Samuels. "I send every name on that list a "pre-mailer", which comes with a perforated card that the potential client can mail back, requesting further information about my company. From those cards, I'll mail a second package that has a full color brochure, a fact sheet explaining my service, and a couple of reference letters and a business card." Samuels says he gets more than five percent response from the initial mailing – quite a lot of new non referral business, considering Samuels sends out more than 3,000 pieces in a year. But most of Samuels' business has come via word-of-mouth." "Word of mouth is so very important," he says. "When I'm at an event, I make sure I talk to people. After the event, I send out a survey form to the client. I usually get about 75 percent of those back, and I make it easy for the client: With the survey I include a pen and a return envelope. On the survey for, among other things I ask the client if they can be used as a referral contact – more than 50 percent of my clients love to be contacted and say a few good words about what I've done. When I get these [surveys] back I put them into a binder and I use that binder to sell myself to the next client." Seems to work, too. Samuels, along with his partner George Gray, performed at 300 parties [and other events] in 1995. "I don't cold call anyone," says Samuels. "I only use a small Yellow Pages listing – a very small percentage of my bookings are generated through the Yellow Pages. In the old days, it's where people went to find a DJ; now, there are marketing books specifically for brides, such as The Wedding Guide, and The I Do Book, and that's where I find the quality clients." Samuels, like many savvy DJ companies, also finds quality leads at the various bridal shows he attends throughout the year. But Samuels goes one step further. He organizes a small bridal fair networking group. "I hook up two fellow vendors – a still photographer and a videographer. We each have our own booths, but we have them placed right next to each other so we can cross-pollinate referrals. We each have a raffle giving away a certain aspect of our services. The brides fill out a registration ticket at the fair, and I'll go home, compile those names and send them out to the other two vendors. They, in turn, do the same. Basically, we're all after the same clients, and since 90 percent of the brides will hire a photographer first, I can take advantage of that contact." The minute a bride books a wedding with Atmosphere Productions, Samuels goes to work. "Once they book with us," he begins, "they get what we call the Atmosphere Productions Bridal Package. With that they get a contract, an introductory form so that they can fill in who's in the bridal party for introductions, when the cake cutting takes place, what the first dance song is, a song list – one page has love songs, and fun dance songs on the flip side. I ask the couple to circle the songs they like, and cross out what they don't want. And they are free to attach a list of additional songs. They also indicate how much involvement they want at the party, and I give them two choices: If you want it to be a fun wedding, make sure you get involved with the event and dance and have fun; if you don't want to get involved that much, then allow me to do it for you, and I will gauge the audience. For that, they have to be convinced of my professionalism and experience." Samuels says that a basic wedding package costs $625 (
1996 price
– current prices are higher) for five hours. He also advises to build two amps into your road case". If something happens to one amp, I just hit a switch and the other goes on. In this business, the fewer equipment problems there are, the better you can concentrate on the performance and the customer."
Brighter Days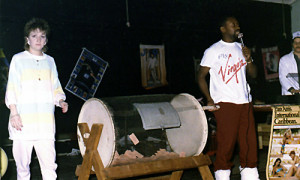 Brighter Tomorrows Inc – Apr
il 29, 1988
Marcie McCaffrey, BTI Board Member I am writing to express my deepest gratitude or the great show your company put on for us at the 4th Annual Suitcase Party. This year you entertained 535 extremely happ people and we hope to have an even larger crowd for you next year. As you know, the proceeds from this event benefit the Muscular Dystrophy Association, and we raised over $6,000 this year thanks to the professionalism and hard work of people such as yourself. It is through contributions such as yours that we can continue donating funds to this most worthwhile cause. I look forward to working with you in the future as do all the people you had partying all night long!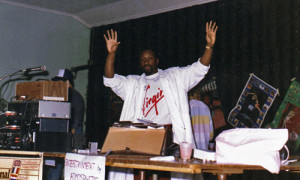 Monday Morning Reply - Radio Industry Publication
Monday Morning Reply
–
Radio Industry Publication
July 16, 1990
Mid-Day Chat with Sylvester Samuels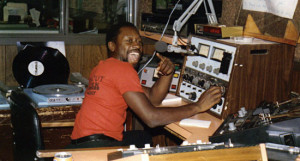 WKND / Windsor, CT
, recently opened itself up for some pretty hot interviews with the likes of Bootsy Collins and Barry White. They joined PD Melanie McLean, as did Jack Gibson (aka Jack The Rapper), who entertained listeners for two hours. Johnny Gill strolled in during mid-day to chat with
SYLVESTER SAMUELS
. During the fourth of July weekend, the station featured the "WKND Power Music Fest," providing a unique array of local entertainment, food and beverages.
Listen to live rare broadcasts of Sylvester Samuels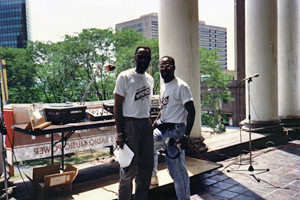 on this classic Hartford R&B, Classic Soul & Jazz music radio station. WKND was the ONLY Connecticut Black music station in the 60's & 70's and a powerhouse for R&B music in the 80's & early 90's. From 1988-1993 the legendary on-air line-up talents of Eddie Jordan (Morning Drive), Sam Harrison Jr. (Gospel), Sylvester Samuels (Mid-Day) & Melonae McLean (Afternoon Drive) graced the Greater Hartford airwaves. Special thanks to these great broadcasters.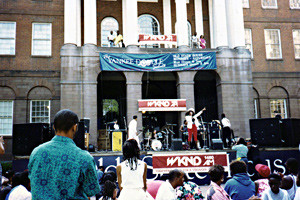 Nutmeg State Games
Connecticut's Olympic-style Sports Festival – September 30, 1993 William G. Mudano, Executive Director Dear Gentlemen, The 1993 Nutmeg State Games saw close to 6,000 of Connecticut's best amateur athletes compete in 30 different sports. The Opening Ceremonies, though rescheduled due to inclement weather, were immensely successful and finals week competition ran smoothly under sunny skies.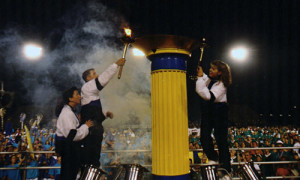 We would like to congratulate you on a job well done and also wish to express our sincere thanks and gratitude for all of your efforts on behalf of the Nutmeg State Games. We hope to have your continued support in the future and good luck in all of your future entertainment endeavors.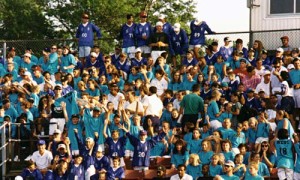 Hartford, CT - First Night
December 31, 2007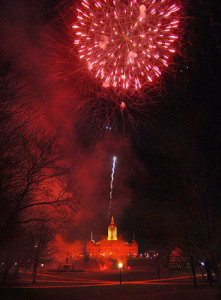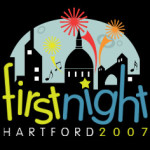 "We would like to take a moment to say thank you for your performance at First Night Hartford 2007.  We had a great turnout and succeesful evening, which is due in part to the many wonderful artists such as yourself who performed throughout the day… Thank you for sharing your gift and making this event possible." Ed Woodward – Production Coordinator – First Night Hartford 2007
Other Press Releases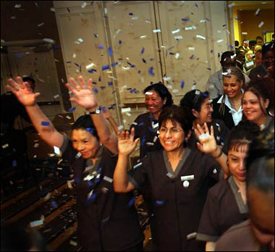 Hartford, Conn. – For many in Hartford, the reopening Tuesday of the downtown Hilton was a double cause for celebration. And while the developers showed off their new Trumbull Street building, the workers were at the center of the celebration. Although the hotel's management has not yet reached an agreement with their union, the workers were welcomed at the ribbon-cutting and a special luncheon at which they entered on a red carpet and were showered with blue-and-white confetti. All the attention caught senior bellhop Gordon Johnson a little by surprise. "It's the atmosphere," Johnson said. "It's about the people."
---
Renee T. Mulvey, CMP and Vivian K. Elba Destination Connecticut!, LLC – Event Planners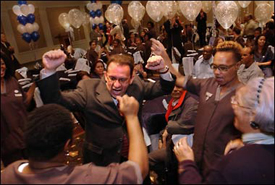 Thanks for providing the great music for the Opening Ceremonies and Employee Lunch for the Grand Opening of the New Hartford Hilton on Trumbull Street in Hartford, this past March 2nd, 2005. The DJ's at Atmosphere Productions are the most professional, versatile performers who can aptly handle any type of event we produce – social, corporate, or a combination. We can count on them to adapt to a versatile group as well as enhance any teambuilding or motivational activities with their special brand of entertainment. Thanks Sam for being our "preferred DJ"!
The Citizen
The Citizen, Gloucester, England
November 20th, 1979
DISCO FEVER HITS TOWN
The boom in the number of disc jockeys in Gloucester just goes to show that disco fever is well and truly in town. The close competition and rivalry between budding DJ's was evident in a disco competition being run for the past three months in the city, writes Joey Wilton. The finals last week at Tiffany's brought the competition to a climax, with Atmosphere II just beating Little Ian's Creation Disco.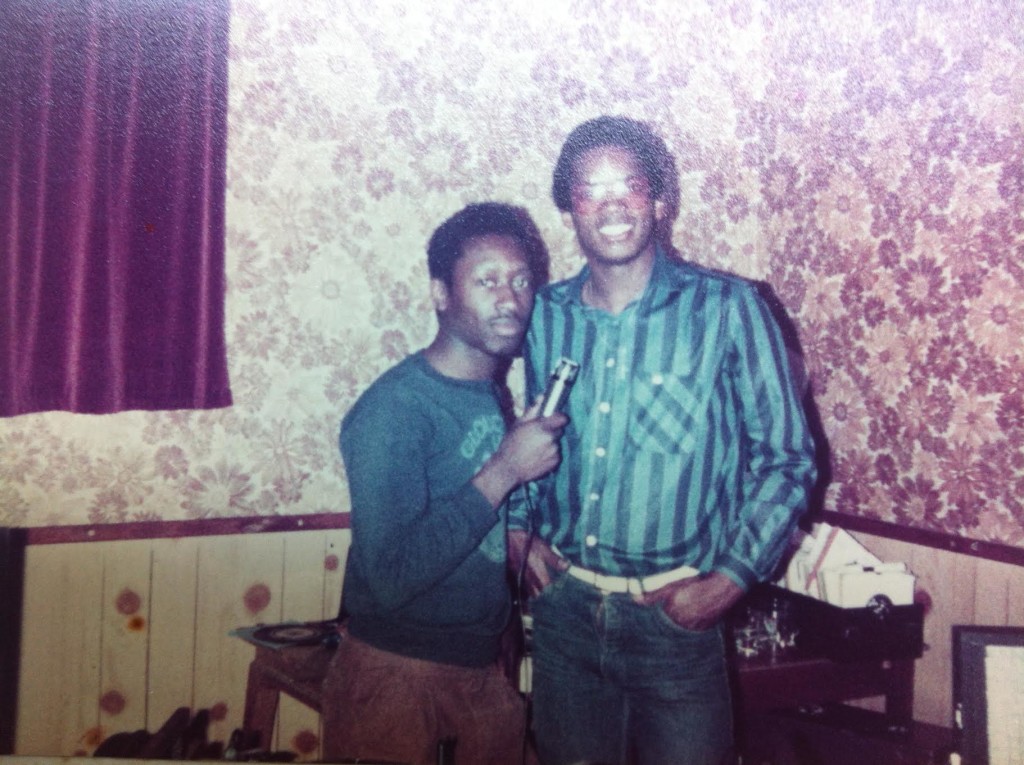 Both are Gloucester discos and the winners Paul Palmer (20) and Sylvester Samuels (19), won themselves two hundred and forty pounds worth of disco equipment and prizes. Runner-up Ian Fernehough, of Kingsholm Rd., who has just started DJ work full-time, won prizes worth one hundred and fifty pounds. In third place was one of the visiting DJs who took part – Disco Fever, with Jeff Slater, from Buckinghamshire. Winner of the dancing competition was Donovan Smith, of Gloucester. One of the judges, woman DJ Honey Bee Benson, who worked at Tiffany's until October, chose Jeff's disco to win a Scandinavian tour – with the possibility of an extended contract. Organizer of the competition was Barry Brown, of Barry's Disco, who said he was pleased with the high caliber of entrants. "We wanted more recognition for the disco scene and more respectability", he said. "There are now 300 DJs in Gloucester and although it is competition there is work for everybody. Disco's are the in thing. It is now a big industry." And good news for any more hopefuls – he plans to organize a bigger and better competition next year.
---
The Citizen, Gloucester, England September 11th, 1979 Charisma Wins The Day The final heat of the Grand Disco Competition was held last week and now entrants will be keeping their fingers crossed for a placing in the semifinals. The winners of the fourth heat were two local youngsters who despite their brief experience in the business, and a small rig, won over the crowds. Under the collective title of Atmosphere II, Paul Palmer (20) and Sylvester Samuels (18), took on the two other outfits and managed to assure themselves a place in the battle to come. The competition organizer, Barry Brown, was highly impressed with the flamboyant style of Paul and Sylvester. Second place went to Geoff Slater who had traveled from Chesham with Disco Fever. Third position was awarded to the Cheltenham-based Blue Ice.