Thank you doesn't seem enough! You are more than a DJ.  You kept me calm throughout this entire process.  You are amazing, you have a fine attention to detail and my night was one to remember.  All of my guests commented on how wonderful the wedding was and that we had a great selection of music….I can't wait to be dancing on your dance floor again!!
Nancy & James Flaws - September 11, 2016 - Glastonbury, CT
Your Wedding is Something Special
Don't Compromise Quality for this once in a lifetime event!
The Entertainer WILL make or break your Special Day! Your Wedding will be memorable if you entrust your day to ATMOSPHERE PRODUCTIONS LLC…. we are your RECEPTION ENTERTAINMENT DIRECTORS.
If you pay a low price and experience a dull reception – YOU'LL BE DISAPPOINTED!! Therefore, the PRICE you pay for ENTERTAINMENT is directly proportional to the QUALITY, which is directly proportional to the SUCCESS of your wedding reception.
QUALITY MATTERS: I want you to rest assured that I have only one goal in mind which is to provide a level of service and excellence that you will remember for years to come. You can leave CHEESY and TACKY to those average DJ's!!!
TRUST US: Not everyone has the talent to take care of your wedding reception… it is unique and requires someone with the knowledge to read a crowd, mix the right music impeccably, have a good speaking voice and have the knowledge, experience, elegance and class to make your reception fun and unforgettable for you and your guests. We are not "just the DJ's"…. We are your Reception Entertainment Directors. We can offer a laid back, elegant and classy performance.
NEVER THE CENTER OF ATTENTION…. BUT ALWAYS FUN! With state-of-the-art digital music systems, you are assured of the highest quality in sound, backed by an unmatched and vast quantity of music to satisfy any age group, any taste or any style. As members of the The DJ Network, The West Hartford Chamber of Commerce and The Association of Professional Entertainers, we meet and exceed their professional standards to guarantee you the highest level of quality service.
Atmosphere Productions can provide you with flexible and comprehensive ENTERTAINMENT PACKAGES to manage all aspects of your Wedding and entertainment needs.  Contact us for more details.
From the initial phone call and meeting with Sam we knew that we wanted him to be our DJ. He is so professional and really makes you feel at ease that he is going to take care of everything so you don't have to worry about anything on your big day…..He was AMAZING during the reception, and people were on the dance floor all night long!
Robin and Derek Stanley - September 23, 2016 - Thompson, CT
PERSONAL CONSULTATION: 1-2 Hours
This will cover all aspects of your reception, from entrance of your first guest to the final goodbye. During your consultations, we'll use our creativity and expertise gained from our experience at thousands of weddings and combine it with your personalities, style, and ideas of how you want your reception to be remembered by you and your guests. This will create a once-in-a-lifetime experience that everyone will talk about for years.
CUSTOM INTRODUCTIONS & CUSTOM RECORDINGS:  2-3 Hours
We can create customized introductions for you and your Bridal Party. You can record special messages to each other, which we will edit to perfection, and master into the first dance. We will customize the message to fit the music. You may also choose a message from the bride to her father for the Father/Daughter dance and from the groom to his mother for the Mother/Son dance and from bride and groom to their parents or guests and many other variations. Listen to samples of how we can make your Wedding Reception unique and memorable.
PRE-RECEPTION COORDINATION: 1-2 Hours
We will coordinate with any professionals or friends or family members to work out any details of the reception in advance so that everything fits the flow of the reception. This will ensure that no details are overlooked, meaning that you can enjoy your reception.
EVENT PREPARATION, TRAVEL & SET-UP: Several days prior to and 3 to 4 hours before your event
All planning information is checked, music is correlated, filed and backed-up. Check with facility for any special requirements or last minute changes. Equipment is checked and loaded. Equipment is set up, sound checked and customized to the room's acoustics so that the first guest hears and sees perfection.
EVENT PERFORMANCE:  5 Hours
From Cocktail Hour to Last Dance we'll provide you with high quality music & entertainment leading to FUN for you and your guests.
POST EVENT BREAKDOWN & TRAVEL: 1-2 Hours After Your Event
Farewell to Bride & Groom. Breakdown of equipment. Travel and securing equipment.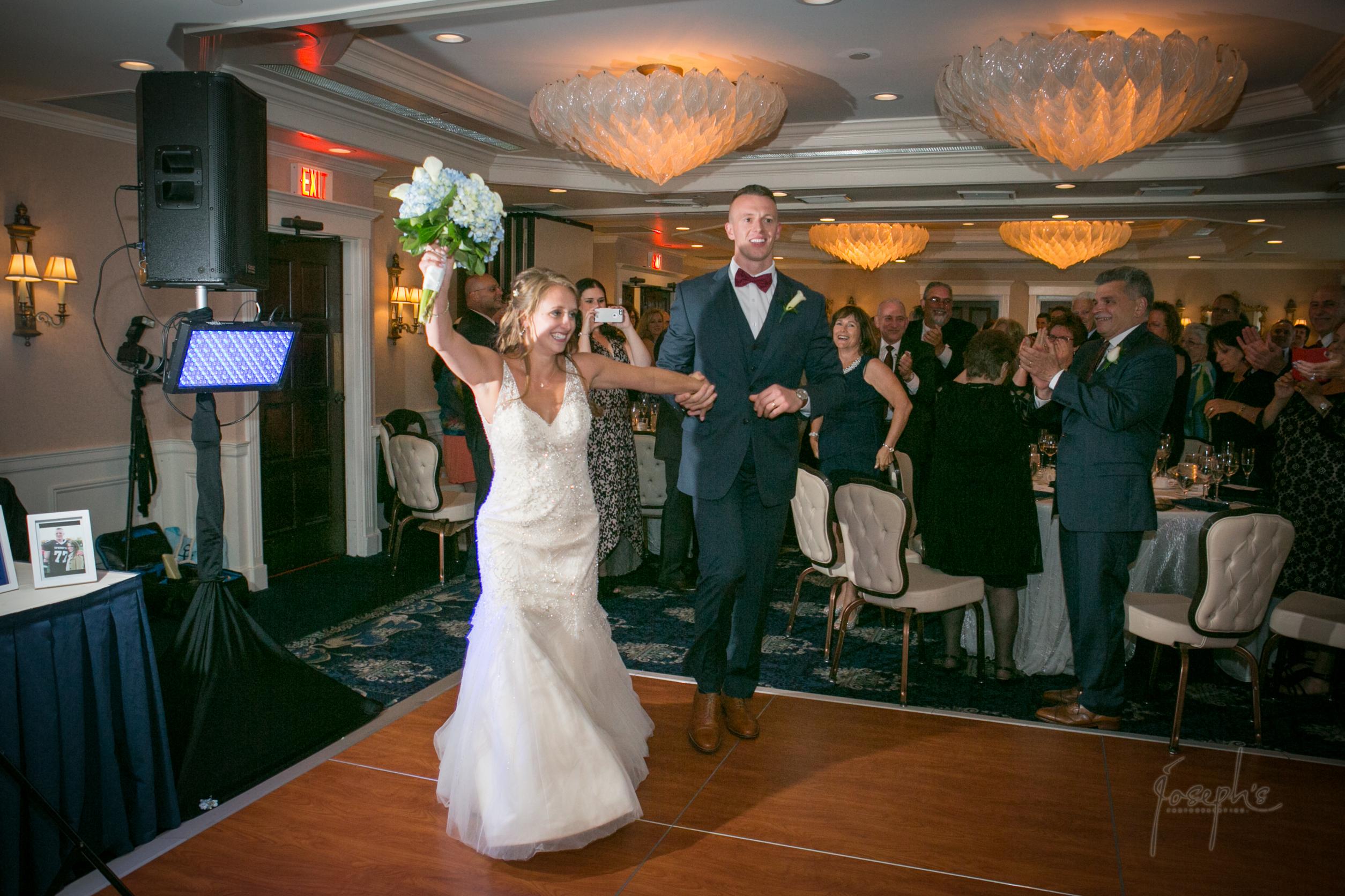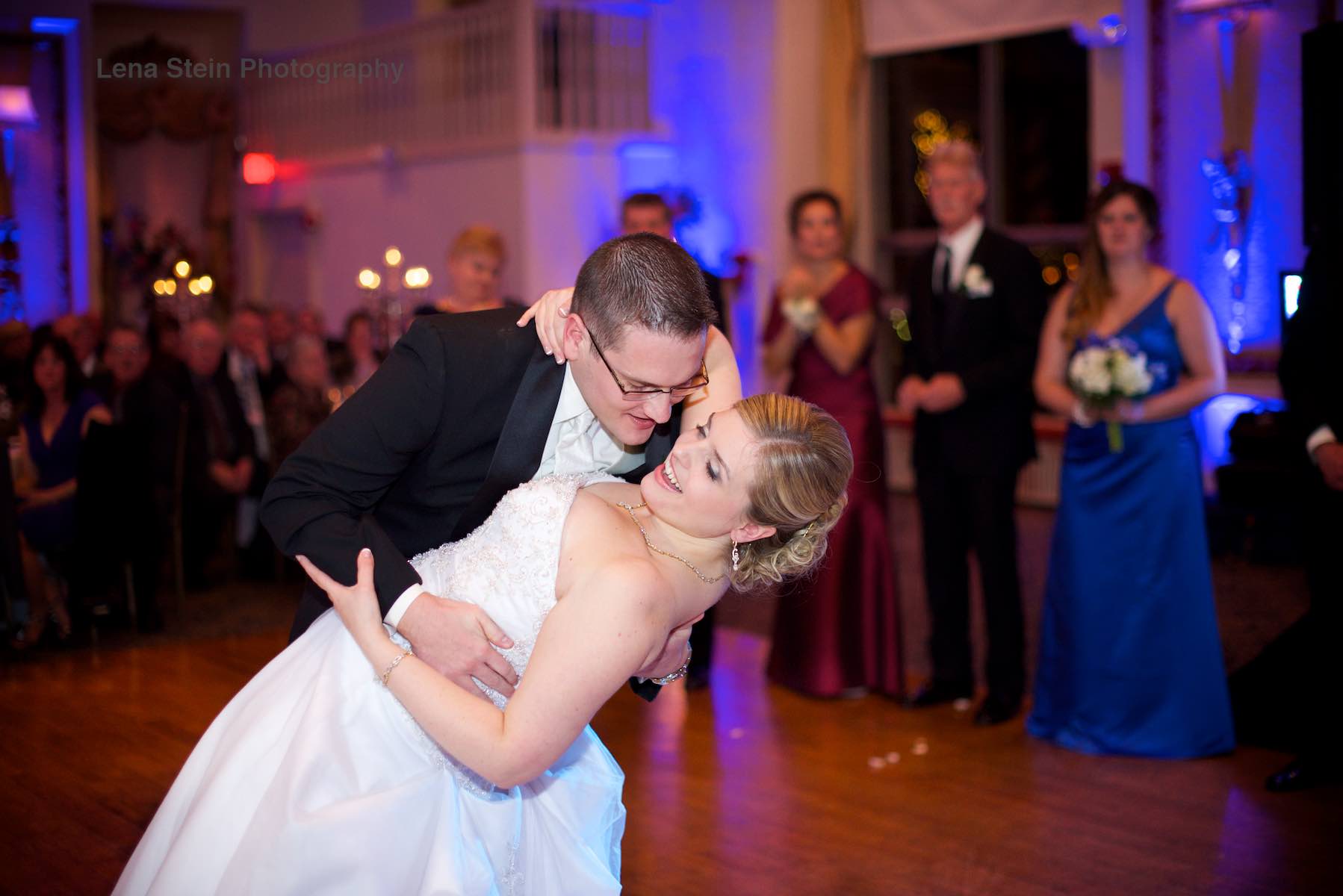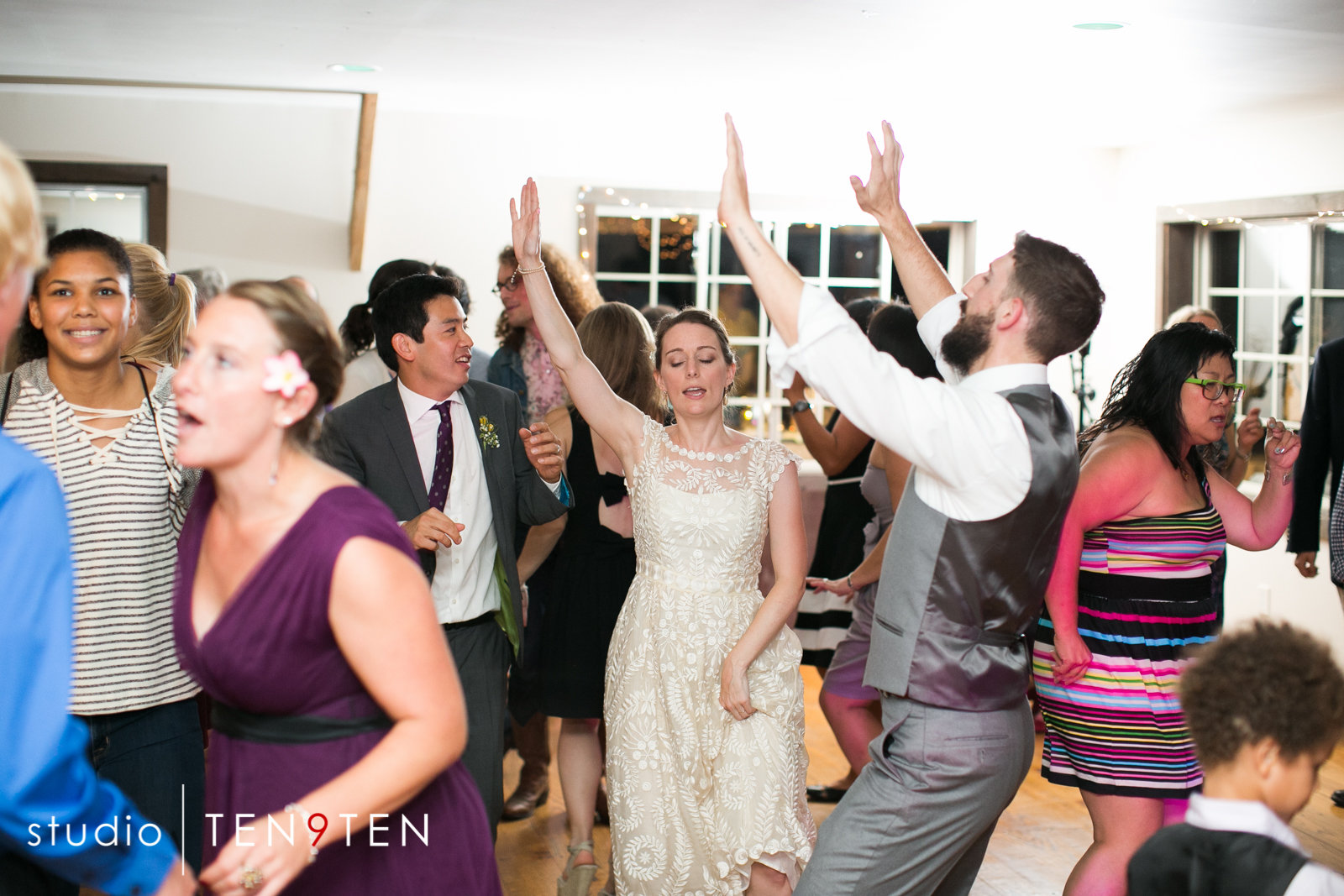 I wanted to thank you for everything you did to contribute to our amazing wedding. Everything went perfectly and we couldn't have asked for more. I received several complements about yourself and the music and uplighting as well, all our guests had such a great time! …….You really helped complete our perfect day and we cannot thank you enough for everything!
Cathlene and Doug Mecca - December 2, 2016 - Basking Ridge, NJ
Your reception will be FUN, MEMORABLE & UNIQUE if you use ATMOSPHERE PRODUCTIONS. We'll incorporate your ideas and our talents to make YOUR reception UNFORGETTABLE. So if you believe, as I do, that YOUR wedding is important, that it should be stress-free, smooth flowing, elegant, classy and most important FUN & ENTERTAINING, then you'll want to see how our service will enhance YOUR wedding day with our caring attitude that puts you & your guests style and feelings FIRST! Because what we do is important and we love what we do…….
You can't afford NOT to see what we can do for you
Experience, Experience, Experience!!!
Money Back Guarantee
Easy payment plans
"THE Voice" of former WKND radio for elegant & classy introductions of YOU & Bridal Party
Close attention to every detail, making sure your reception runs smoothly
Between 12-20 hours of planning, preparation and performance
Professional "live" musicians for duo, trio or quartet Ceremony Music
Unique Cocktail Hour music with strolling violinist, jazz guitar or jazz combo
Custom room decor lighting & dance floor lighting options
Fun, classy & elegant performance
Professionally trained and friendly attitude
Formal attire for professional appearance
FREE accurate & complete information
Answer all calls promptly & courteously
Return calls & E-mails within minutes or a few hours
FREE wedding consultation to meet with specific DJ
Full contract & proof of $2,000,000 Liability Insurance
Over 80,000 song library from Big Band to Techno, Motown to Latin, Rock & Roll to Hip Hop
FREE Newsletter, Facebook updates, Blog posts & E-mail updates
FREE Wedding Music CD sampler to help with Ceremony & Special Event selections
FREE customized music service to find that "perfect song"
FREE wedding event planning & music request forms
Music systems available for outdoor ceremonies
Back-up equipment built into our systems
Exclusively use only APPLE COMPUTERS
Every detail planned out ahead of time, so you can enjoy your big day…worry free!
Complete review of reception details 7-10 days prior
Personal reception coordination between facility, photographers & other wedding vendors
Organize & coordinate Bridal Party for introductions
Exclusive "Love Story" or "Custom" Introductions
Appropriate light music during cocktail hour & dinner
Event coordination of First Dance, Blessing, Toast, Cake Cutting & all other formal events
Create tasteful & fun music for dancing
Coordinate special events & special parents dances
Exclusive "Anniversary Celebration Dance"
DJ performance & interaction as appropriate and as requested
DJ never the center of attention
Customized Last Dance & event closure.