My now wife and I had set an unrealistic budget for a DJ, so we were in two minds as to whether to spend what we did, but we are so very glad that we did!  You were much more than just a DJ for us – taking us through things and reassuring us ahead of time and then, on the big day, bringing everything together so professionally from the first minute to the last.  What we ended up with was the foundation to the whole event.  Thank you, ATMOSPHERE PRODUCTIONS!
Elisa and Darren Hobbs - Waterford, CT
What Value Does A Professional Disc Jockey
Add To Your Wedding?
Have you ever attended a great party? What was it that made it better than other events? The food? The flowers?The photographer?… No… it was the entertainment.
You and your guests will attend your wedding to CELEBRATE your union. To participate in it, to share that special day with you. This is why entertainment plays a MAJOR role in providing you and your guests a happy, festive, and fun time! Your selection of entertainment can either make or break your event.
Are you willing to chance the success of your wedding on the least expensive disc jockey that you can find? We think nothing of spending $50-60 per person for food, but then we want to 'shop around' for the cheapest entertainment, often spending less than 5% of the events costs. Like food, the quality often depends on the price Take as much time and effort in selecting your DJ as you did in selecting your wedding dress. Your DJ will have only one chance to do your reception right. There are no second opportunities to do it over again.
The national average 2015 budget for a wedding in the US is $31,213 according to The Knot 2014 Real Weddings Study; actual cost in the New York area is between $55,327 and $76,328 and in Connecticut is $38,925 .
If you decide to hire the cheapest disc jockey (for a 5 hour period) on the date of your wedding your guests WILL not dance AND leave early because of poor entertainment. You've just lost, on average, over $7,000! That's right….. with the average five hour reception, every hour your guests leave early… that's approximately over $7,000 WASTED!!!!!.
A quality professional will actually SAVE YOU MONEY in the long run! What percentage of your events success depends on your choice of entertainment? A national survey shows that over 80% of the success or failure of your wedding rests with your entertainment. What percent of your wedding budget should you plan on spending on entertainment? The national average budget for a wedding in the US is $31,213. If you can allocate 4.5% – 7% of that budget for quality disc jockey entertainment, you would have less stress, more FUN and guarantee a hugely successful wedding reception.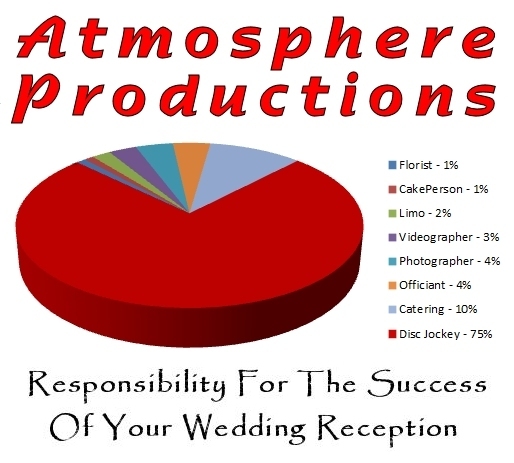 So, what value does a professional DJ provide to your wedding?
Atmosphere Productions LLC does much more than play music at your reception.
We help you plan the music and the day's events and make all announcements. We are also your personal wedding coordinator keeping the event flowing and your guests entertained. We are team players and will work with YOU and other wedding professionals. No need for you to run around and make sure the photographer is ready for the cake cutting. We take care of that for you, so you can relax and enjoy your special day. NOTE: Some facilities charge over $900 to provide you with a wedding coordinator – we do that for FREE!!!.
We are not ashamed to say that our prices are significantly higher than many disc jockey services in the area. Then again, I'm sure the other disc jockey companies know what their service is worth and they set their prices accordingly. That's just what we do. Contact us so that we can get in touch with you and provide a knowledgeable detailed
quotation. So when trying to decide how much you can afford for entertainment, think about how much you can LOSE if your entertainment is poor or mediocre.
Even if you do NOT book our service…… PLEASE, PLEASE, PLEASE…. look for professionals and pay them what they are worth. After all, if you want the best, it will (AND SHOULD) cost more. In the long run, they WILL provide a level of service that you will NEVER regret.
Remember: "They'll forget the food… but not the fun!"