"Ben played the 
violin beautifully during our outdoor ceremony and cocktail hour; it made the ceremony very romantic! "
Abigail & Chris Jensen - September 25, 2015
ATMOSPHERE PRODUCTIONS now has the ability to provide live string musicians to compliment your Wedding Ceremony, Cocktail Hour or Dinner music needs. Specially designed for smaller ceremony locations, outdoor events, non-tradition locations or just to add a touch of class and elegance to your event. From a Solo Guitarist to a Jazz Combo, from a Classical Duo to a Chamber Group playing traditional Classical pieces of Handel, Bach and Wagner to Classical versions of Elton John & The Beatles standards, your choices are endless and unique. We can make it all come together! You choose your unique package of DJ and "live" musician combinations. You don't have to worry about anything – we'll take care of all your musical needs
Looking for something different for Cocktail Hour?  Do you want totally memorable Dinner music? Enjoy a Violinist strolling during the Cocktail Hour, walking amongst your guests or during Dinner, strolling from table-to-table taking requests.  All heard over our optional wireless broadcast sound system, so that ALL your guests hear the virtuoso talents of our musician. With the latest wireless broadcast technology our Strolling Violinist's musical talents will be a joy to hear through a full, rich, dynamic digital sound system.  From the traditional classical piece to your favorite Irish Jig; from a Big Band Standard to an improvised Pop standard, Atmosphere Productions can make it happen at your Ceremony or Wedding Reception.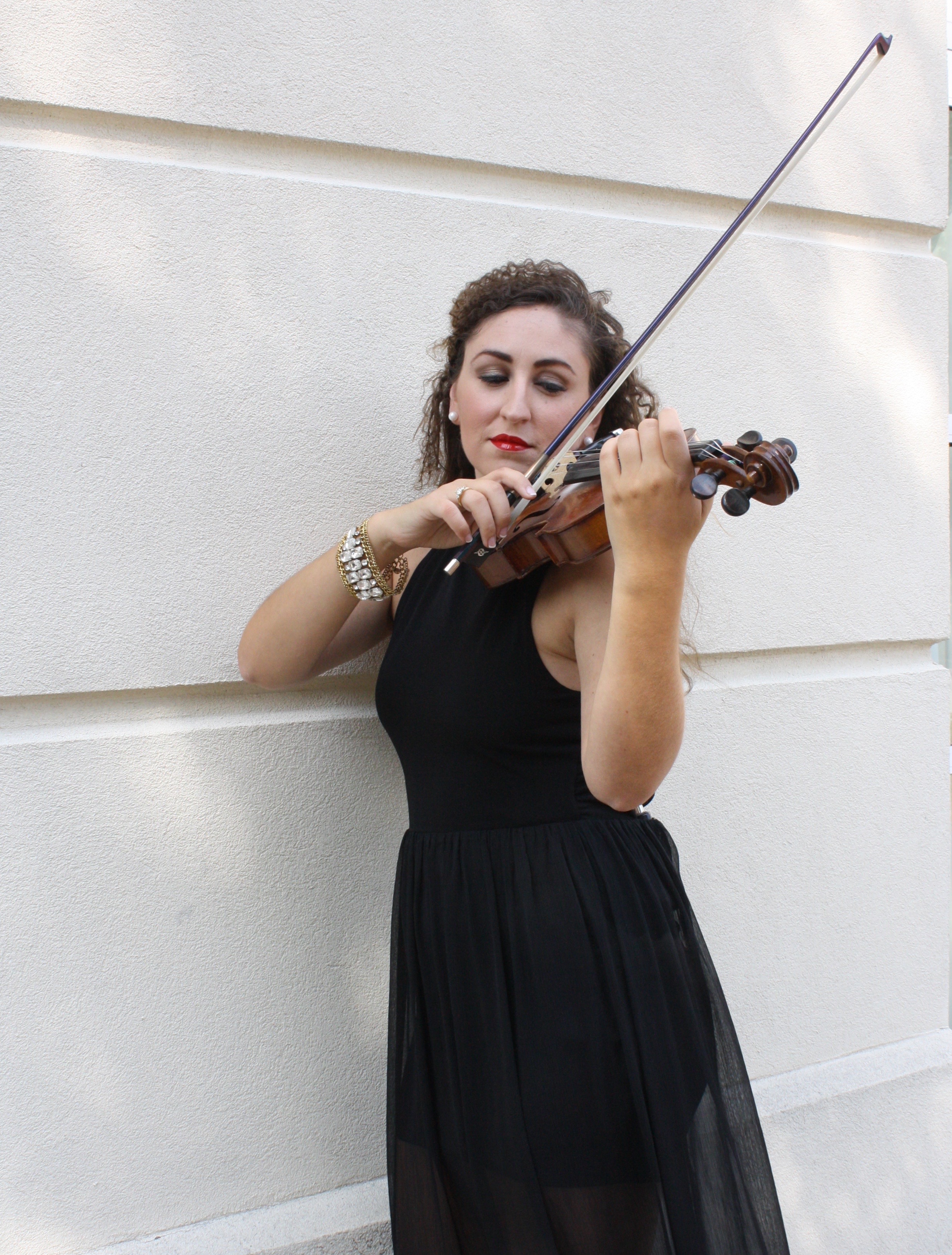 "The violinist was great and adjusted the music to more of a jig when the children wanted to Irish step dance around him." Nina & Austin McLaughlin - June 27, 2015
Solo Violin, String Duo, Trio or Quartet
"We also had a violinist for our ceremony who played anything from Coldplay to Frank Sinatra. Everyone at our wedding complimented the music." Raeann & Evan Schwartz - Glastonbury, CT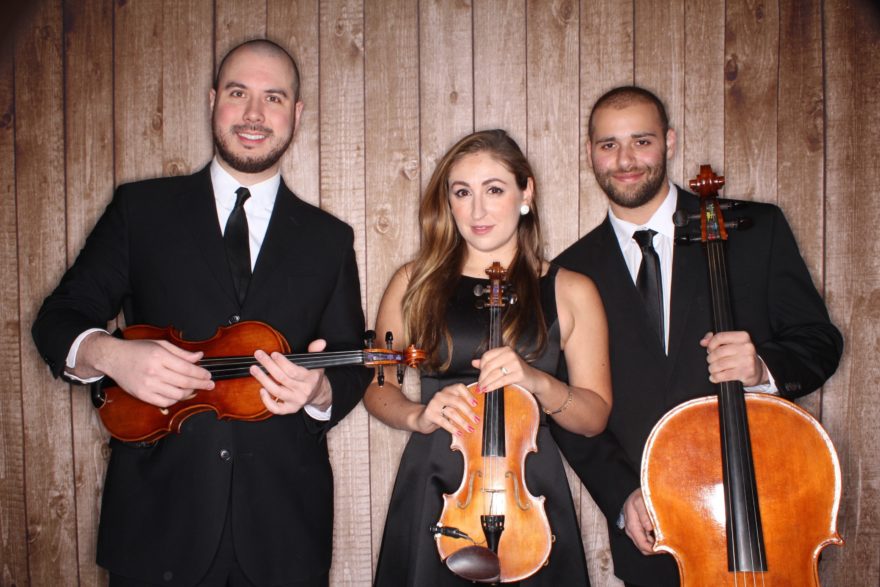 We can put together combinations of local musicians who are conservatory trained, highly skilled and professional in the form of a Soloist, Duo, Trio or Quartet. The diversity of these ensembles provides combinations of Guitar, Violin, Flute, Cello & Harp to suit your needs. We confirm details and music selections about 30 days prior to the Ceremony and will arrive on the day about an hour prior (the time that has been arranged on the contract). Our Musicians will work with the wedding coordinators, officiants, or wedding planner for any last minute instructions. We typically begin prelude music usually 15 minutes before the start of a ceremony as guests arrive.
We have an extensive repertoire of music and are able to work with you to create a highly personalised selection of music.  We'll help guide you in your choices – with years of experience we know what we're doing and will ensure you get the right music to make your event fantastic! Our musicians attire is concert black or tuxedos. We can also coordinate our look for reflect the color scheme of your wedding to really tie everything all together. We will perform as the guests are arriving, the Prelude, for the Processional, any music within the Ceremony, the Recessional and for the Postlude and Cocktail Hour.
Our string players can also perform pop and rock covers of your favorite music. Here is a clip of a performance song requested by a bride for her wedding day.
Guitarist and Jazz Combo / Trios
How about a Jazz Guitarist or Jazz Combo handling the Cocktail Hour? With a 7-string guitar in our Combo we can play nice, sedate, romantic background music or you can choose from a broad range of pieces from the Flamenco to today's Smooth Jazz and yesterday's popular Jazz favorites.  We can make it strictly instrumental classical or Swing Era classics and popular oldies from the 40s through the 60s, or intersperse vocals.  Elegant, classy and refreshingly different. Our Solo Guitarist can play Classical Ceremony pieces for an Indoor or Outdoor Ceremony and play Traditional, Jazz, Spanish Guitar with a sprinkling of today's modern songs during the Cocktail Hour.
Our Jazz Combo is available for Cocktail Hour and Dinner playing Traditional or Modern Jazz selections. These professional musicians know their music and know how to do it right. Use our musicians in combination with our DJ services or separately. Be the first to have this unique element at your Wedding Reception. Add this to any Atmosphere Productions package. Available for indoor or outdoor ceremonies, cocktail hour or dinner hour. For additional fees we can provide sound reinforcement and wireless microphones for your outdoor ceremony.